Last night was officially my gazillionth time watching Grease (1978). I just can't get enough of it! I'm not sure if this was the first time I watched it, but my first memory of watching Grease was with my family friend; Rachel, who was two years older than me. She was utterly obsessed(!) and we watched it one day. I was very little, not sure on an exact age. That was approximately when my love affair with Grease started :)
Directed by:
Randal Kleiser
Based on the original musical by:
Jim Jacobs & Warren Casey
Screenplay by:
Bronté Woodard
Adaption:
Allan Carr
This film follows the love story between Sandy (Newton-John) and Danny (Travolta). She's a "good girl" and he's a bad boy greaser. They spent one summer together and then unexpectedly discover that they now both attend Rydell High School. But the question is will their romance continue under the different circumstances in regards to their social status' and reputations?
John Travolta is absolutely perfect as Danny Zuko! He has always been my favourite character because he's just so damn
cool
and so dazzling! And that walk of his is just...glorious :) Travolta was just born to play this role. Danny's funniest scene would be when he is trying to impress Sandy by becoming a jock and the coach is attempting to find which sport suits Danny the best. His singing is also great, top notch.
Olivia Newton-John is also perfect as Sandy Olsson. The "good girl" image is so right for her. Sandy is my favourite out of the girls in the film, although I have a soft spot for Marty for her being attracted to older men. Her singing is amazing, as usual :)
The Pink Ladies are fabulous! Rizzo, Frenchy, Marty and Jan really seem like fun people to hand with. They all have different personalities and qualities and that's why we love them. There is at least one girl in the Pink Ladies that we can relate to.
The T-Birds are fantastic! Danny, Kenickie, Doody, Sonny and Putzie are
brilliant
and so freaking cool, despite being "dorks" some of the time :) Many would say that the T-Birds are totally and utterly outdated and I firmly disagree. The T-Birds are still great in my book! :) Who could not love them, check them out: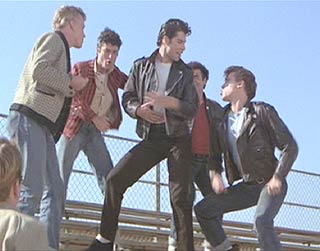 The soundtrack to this film is so unbelievable and blows me away every time I hear it. The songs include; Summer Nights, Look at me; I'm Sandra Dee, Hopelessly Devoted to You, Greased Lightning, You're the One That I Want, Sandy, Beauty School Dropout, There Are Worse Things I Could Do, We Go Together, and many more great songs.
All of the tracks on the soundtrack are amazing and are worth
a million
listens.
There is also some memorable quotes/dialogue in this film which is classic, for example:
You can't just walk out of a drive-in.
You're cruisin' for a bruisin'

Rizzo: I've got so many hickies people will think I'm a leper.
Kenickie: Relax... A hickie from Kenickie is like a Hallmark card.
Rizzo: You pig!
Kenickie: Oh, I love it when you talk dirty!
and, of course:
and of course, the end. The ending is just the cherry on top of an amazing film!
Overall, it is the best musical
EVER
with great acting, songs, quotes/dialogue and T-Bird eye candy.
Need I say more?
I give it 4 out of 4 stars.
Watch the trailer here:
http://www.youtube.com/watch?v=PDpOM0L9eQI
Rating:
PG
Runtime:
110 mins.
Taysha. x